Established in the Fall of 2018, Pieus Productions is a multi-media company dedicated to bringing clowning into the modern era. Pieus Productions pushes philosophical ideas into the realm of absurdity using the art form of clowning as an aesthetic lens, allowing for a thorough examination of the challenges that face us as a society in the modern world .
Pieus Productions is dedicated to providing an artistic platform and employment opportunities to working artists of diverse identities, and seeks to represent the various stories and people we see in our community.
Pieus Productions aims to be a safe, radically inclusive home for both Chicago's performing artists and their audiences. Pieus strives to be the shelter in which we create and explore the storms that we find ourselves in, and encounter experiences different than our own. Here, we are ready to fail hard, ask questions, and most importantly, play.
Pieus Productions is run by the following talented, skilled and badass individuals:
Jessica Smoot (Rackoone) - Artistic Director
Jessica Smoot is a theatre wunderkind from Dallas, Texas whose size belies her big visions and nonstop energy. Creating art in Chicago since fall of 2017, this is the third full theater production she has directed. Her first production, "Six Characters in Search of an Author" was done at her alma mater, Oklahoma State University (where she obtained her B.A. in Theatre with a minor in Philosophy). After that, Jessica directed a revival of The Glass Menagerie with the Luckenbooth Theatre Collective in Dallas, Texas. Her work has been seen at a variety of places such as Potluck, The Museum of Contemporary Art's Variety Hours, and Chicago Theatre Marathon.
After years of serious theater work, Jessica was tired of revering "great authors" and wanted to take a serious Shakespearean drama and turn it on its head. While deeply immersed in clown work, she conceived of one of our projects, Titus Clowndronicus after stumbling upon a death count infographic for the play. After re-reading the play, Jessica knew that this was the one that was ready for the clown treatment.
A working actor, Jessica became addicted to clowning since her first clown class in February 2018 and it is now primarily what she performs. She has an absurd amount of Shakespeare memorized that she will recite when drunk if asked (or not.) She loves the movie "We Are The Best" because it's about young women doing something they love, even if they're bad at it. Children often tell her she looks like she is 12 when she is, in fact, a fully grown adult human woman.
When not performing, writing, or creating, she works as a freelance teaching artist and assists young humans in finding their artistic voice. Unfamiliar with the concept of "spare time," Jessica can also do embroidery and play the guitar very badly.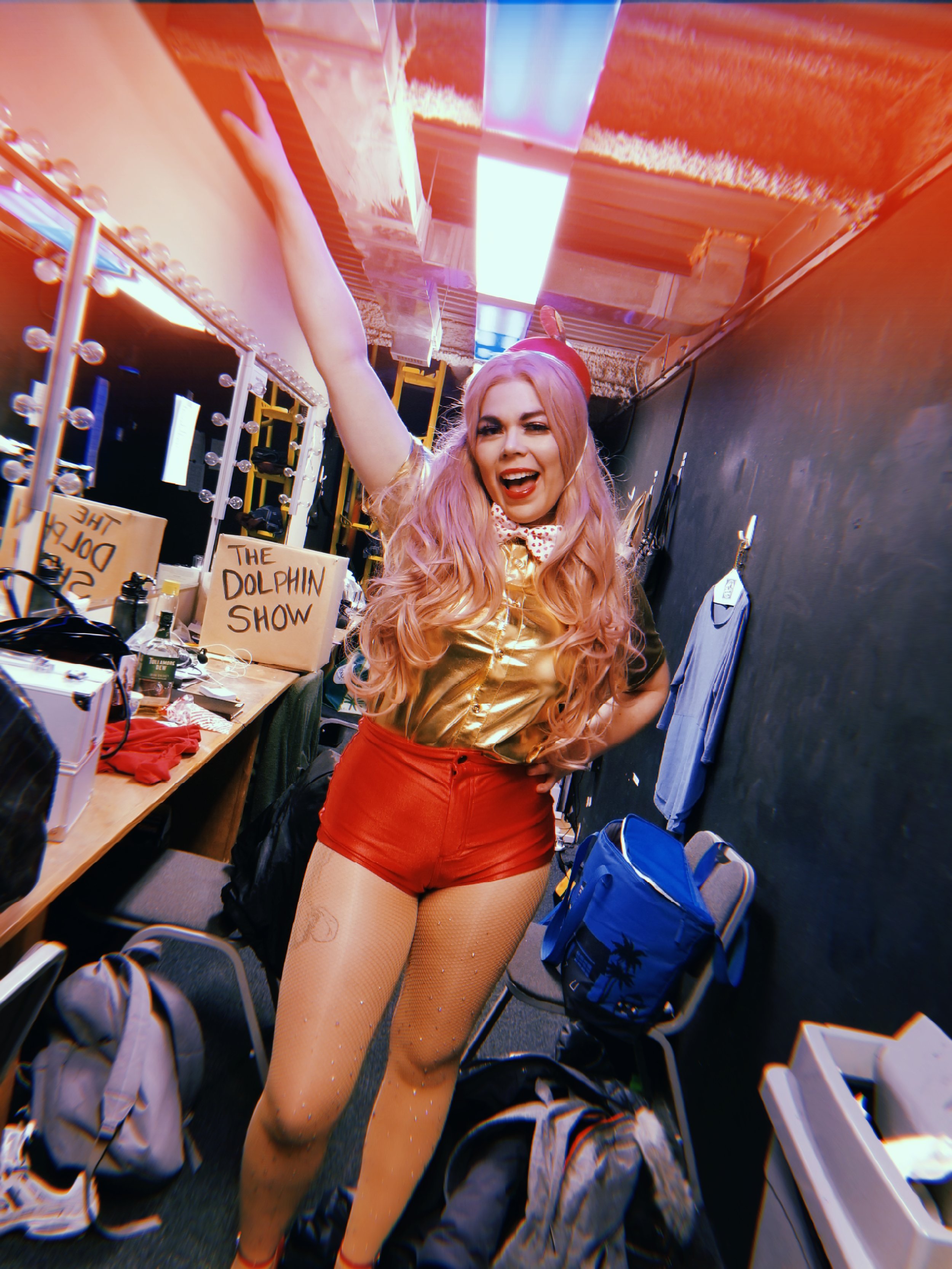 Instagram: @foxygrandpahellyeah
Christine Konczal (Foxy Grandpa) - Managing Director
Born and raised on the south side of Chicago to a Chicago Public Schools teacher and a Vietnam vet, Christine Konczal is equal parts smart, tough, bold and fiercely inventive. Having lived in L.A., London and D.C., Christine returned to Chicago a few years ago to come back to the vibrant artistic community unlike anything in any other city.
An artist, host, dancer, performer and clown, Christine has performed at places like Navy Pier, Aloft Circus Arts, the Old Town School of Folk Music, MSA & Circus Arts, Theater Wit and many more. Christine has been performing her entire life, starting with the plays she wrote with and for her classmates in first grade, giving readings in her childhood church, ballet/tap/jazz recitals, fronting and songwriting for her high school band, writing/shooting/producing her own (and others) films in college and after, dancing on stages all over the city all the way to now where she primarily performs as a clown and host. Most recently, she performed as Maria in Yes Ma'am Circus's production of Twelfth Night in June 2019 and this fall will start the full time professional training program at The Actor's Gymnasium.
With a B.A. in Film Production, a J.D. and a passion for creating and performing, Christine is uniquely suited to be the managing director for Pieus Productions. She has previously produced several short films, live showcases, and other industry events. She also regularly consults with local indie productions looking for logistical help.
When she's not working for Pieus, she enjoys traveling, running, opera, crossfit, oil painting and runs a Dungeons and Dragons game.